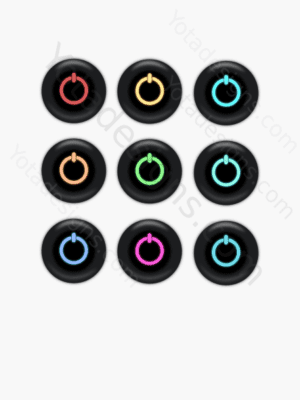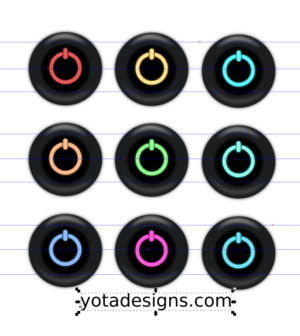 $1.00
In Stock
Graphic buttons "OFF" with multiple colors 
Version: 1.0
Number of graphic: 9
variety : 72
Graphics Files Included: .PNG
Pixel dimension: 16x16px, 24x24px, 32x32px, 48x48px, 64x64px, 128x128px, 256x256px, 512x512px.
Colors: blue, cyan, green, orange, turquoise, pink, purple, red, yellow.
Personal use: Yes
Commercial use: Yes
Only logged in customers who have purchased this product may leave a review.
Our graphics or images may be used for personal and commercial purposes.
---
License Grant Licensor grants Licensee a non-exclusive, non-transferable license to use the product for personal and commercial use. The Product may be used to create physical products such as t-shirts, mugs, posters, website or app, etc.
---
Video: By purchasing any 4K video or video from our collection from Yotadesigns.com, you are granted a non-exclusive, non-transferable license to use the video for personal, non-commercial use or commercial use in marketing and promotional materials, including website and social media content, as long as the video is not the primary focus of the content. You may add your own watermark or logo to the video to make it unique to your website or platform. You are not allowed to sell, share, or distribute the video, or claim ownership or authorship of the video in any way. The video remains the property of Yotadesigns.com, and all rights not expressly granted are reserved by Yotadesigns.com. You may use the video in commercial projects, such as in marketing or promotional materials, but it cannot be the primary focus of the content. This means that the video cannot be the main attraction or the main selling point of the content, but rather just a supporting element. Some videos may include natural sounds such as the sound of waves on the beach, while others may not have any sound. You are free to add your own music or text elements to the video, as long as you respect our terms and conditions.
---
Limitations For printing: Licensee shall not use the Product in a manner that exceeds the limitations. Licensee shall not print more than 1000 pieces of the Product. General: When using our digital products, please note that our license prohibits reproducing, distributing, giving away, or reselling the Product as is, or claiming it as your own work. However, you are free to incorporate the Product into your own projects and creations for personal or commercial use, subject to the restrictions outlined in this Agreement.
---
Restrictions You shall not reproduce, distribute, give away, or resell the Product as is or claim ownership of it. You shall not use the Product for any illegal, immoral, or harmful purposes, including but not limited to hate speech, pornography, or promoting violence. You shall not use the Product on or in connection with any website that promotes or engages in illegal, immoral, or harmful activities. Refund There is no refund on digital products, if you need help, please feel free to contact me.
---
If you want to read license and agreement https://yotadesigns.com/terms-conditions/ If you have any questions about the license agreement, please contact Yotadesigns.com at yotadesigns@yahoo.com.